The College will communicate with all applicants, students and apprentices via their Lewisham College email or chosen email. All public announcements, such as site closure will also be communicated via this website. Please do not rely on social media or local news for information.
Please click here to read our Remote Education Offer.
Thank you for your continued patience in these unprecedented and challenging times.
Updated 5 January 2021
The government has announced that schools, colleges and universities are to close until further notice. As always, the health and wellbeing of our staff and students are our top priority. All face-to-face teaching will be stopped and all learning will continue remotely with the exception of:
students on an Education Health and Care Plan (EHCP), looked-after children and those who have been identified as vulnerable and therefore would benefit from continuing to attend full-time
students who have parents that are classified as a key worker
a small number of higher education students on specific courses, who will have the opportunity to be tested or isolate for 10 days before returning to campus.
If you are a student and you fall into one of these categories you will be contacted directly regarding arrangements.
Students should already be set up to continue learning from home and will be contacted by tutors and teachers directly with details of lessons. If you have any questions or concerns about accessing remote sessions please contact us.
If you are currently undergoing a work placement or attend work as an apprentice, you should continue to attend unless you are told otherwise by your employer.
If you are a Higher Education student further information is also available on the attached letter from the Principal.
Cancellation of Vocational Exams
Since the government announcement to close colleges on Monday 4 January, we have been closely following the Department for Education instructions and guidance, which meant going ahead with scheduled January exams as planned.
We were informed on Tuesday 5 January that colleges must now decide for themselves whether to go ahead with vocational exams scheduled this month and that students who do not attend will not be disadvantaged.
There are many benefits to continuing with exams, but in light of the national lockdown, a new strain of Covid-19 and high transmission rates across the localities of our colleges and indeed across the country, we do not feel it is right to ask students to travel to attend exams. This is particularly true now that we have received confirmation that students will not be disadvantaged from a cancellation.
Therefore, in line with a large (and growing) proportion of the FE sector, we have now taken the extremely difficult decision to cancel all exams scheduled, except for those students who will have the choice of sitting the second part of a two-part exam.
Reopening plans
At this moment we have been advised that the reopening of schools and colleges will be reviewed on Monday 15 February. We will contact you directly and update our website with information as we receive it.
Please be reassured that we will continue to do everything we can to support you and help you successfully continue your studies. Thank you for being patient and understanding during this time.
If you need any support or have any further questions about learning remotely, please speak to your Tutor in the first instance. If you have any concerns about your safety or that of others, contact a Safeguarding Officer on This email address is being protected from spambots. You need JavaScript enabled to view it..
---
The College has introduced a centralised reporting process for staff and students who wish to report positive tests and/or that they have been told to self-isolate by NHS Track & Trace.
Please report to This email address is being protected from spambots. You need JavaScript enabled to view it. where this can then be responded to 24 hours/day, 7 days/week. This will help us make sure that students and staff are contacted in a timely manner should there be a need to self-isolate, suspend some classes, and ensure that additional cleaning of specific rooms is needed.
All staff, students and visitors will be asked to:
Maintain social distancing and the general principles of personal hygiene
Keep to limits on the number of people in rooms
Follow signage/guidance and not moving furniture from the places in which it has been set out, and
Wear a face covering unless exempt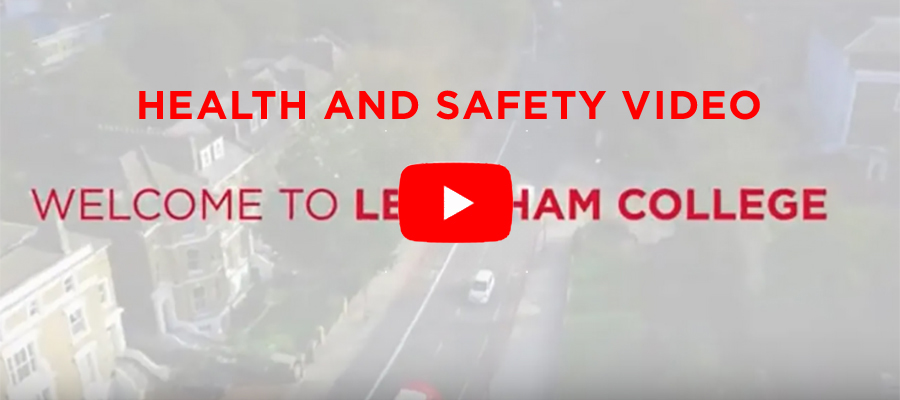 Further Information
You can read more about our Health and Safety measures on the following leaflet: Staying_COVID-19_Secure_in_2020.pdf
The safety and wellbeing of our students, apprentices and staff is at the forefront of any decision we take. We realise that we may need to adapt if the government and Public Health England advice changes and we will be putting plans in place to do this if necessary. We will review this regularly and will only remain open if:
All Government guidance can be met, in full.
Individuals, College areas and work tasks have been risk assessed and appropriate mitigation measures are in place.
Full consultation has taken place.
The Principal, supported by the Executive Leadership Team and the College Board, authorises the action.
Teaching and Learning
The College continues to offer face to face learning on campus. All students and apprentices also have access to remote classes with teachers available to set work and check learning. The precise electronic mechanisms for delivery and learning will vary between subjects and courses, but they receive regular correspondence from their teachers to provide further information.
Applications
Applications remain open online for all courses with admissions staff processing them using our online systems as normal. If you have any questions about an existing application or are not sure what to study and need further information, advice or guidance then please contact us.
Further information on applying for a course can be found at www.lewisham.ac.uk/apply.
Enrolment
Further information on enrolment can be found at www.lewisham.ac.uk/enrolment
Exam results 2019/20
To be sure that we keep all of our students and staff safe at this time, we sent results out to current students by post or by providing digital access to results through the exam board websites. Find out more about how to collect your exam results or the exam appeals process by visiting our exams page.
Safeguarding
Please contact us if you need advice and guidance or further support. If you are worried about anything please contact your tutor or This email address is being protected from spambots. You need JavaScript enabled to view it..
Vulnerable students and children of critical workers
All vulnerable students and children of critical workers have been contacted to ensure arrangements are in place for them to study remotely and receive support. If you have not been contacted or if you believe your child is vulnerable and needs to continue attending College please contact us on 020 3757 3000 or This email address is being protected from spambots. You need JavaScript enabled to view it. as soon as possible.
Vulnerable students
Vulnerable students include those who have a social worker and those with education, health and care (EHC) plans as well as children in need, children who have a child protection plan and those who are looked after by the local authority.
Children of critical workers
A definition of critical workers is contained here:
https://www.gov.uk/government/publications/coronavirus-covid-19-maintaining-educational-provision/guidance-for-schools-colleges-and-local-authorities-on-maintaining-educational-provision
Further guidance for parents and carers is available here:
https://www.gov.uk/government/publications/closure-of-educational-settings-information-for-parents-and-carers/closure-of-educational-settings-information-for-parents-and-carers
Further Information:
Staying_COVID-19_Secure_in_2020.pdf
International travel and College trips

If you are planning to travel to other countries, please follow Foreign and Commonwealth Office advice and consult Government guidance on your return. Please also inform the College before returning to a College site.

All College trips and visits have been cancelled until further notice.

If you feel unwell

The most common symptoms of coronavirus (COVID-19) are recent onset of a new continuous cough and/or high temperature. Follow the Public Health England advice if you or someone you live with present with symptoms. You do not need to call NHS 111 to go into self-isolation. If your symptoms worsen during home isolation or are no better after seven days, contact NHS 111 online. If you have no internet access, you should call NHS 111. For a medical emergency dial 999.

Further Information

The DfE launched a helpline to answer questions about COVID-19 related to education. Staff, parents and young people can contact the helpline as follows:

Phone: 0800 046 8687
Email: This email address is being protected from spambots. You need JavaScript enabled to view it.
Opening hours: 8am to 6pm (Monday to Friday)

You can also find the latest information updates on COVID-19 here.